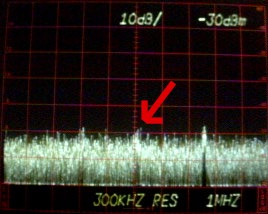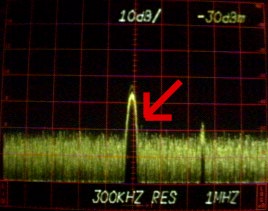 AID - Westinghouse/Audio Intelligence Devices, Inc. Bug Frequency
135 MHz - 150 MHz  Special Order/Secondary Band (also 138-162 MHz)
150 MHz - 174 MHz  Standard/Primary Band (Most Popular Band)
216 MHz - 220 MHz  Special Order
400 MHz - 470 MHz  UHF Repeaters
806 MHz - 821 MHz  Digital Spread Spectrum TX-8xx (BPSK-407kb Direct Sequence)
851 MHz - 869 MHz  Body Pack/Wire (NFM) TX-11xx
902 MHz - 928 MHz  Digital Spread Spectrum TX-8xx (BPSK-407kb Direct Sequence)

 21 MHz -  80 MHz  Very Low Power WFM (.5mw - 10mw)  Special Order Only
 36 MHz -  39 MHz  Very Low Power WFM (.5mw - 50mw)  ***Very Dangerous***
 80 kHz - 200 kHz  "Line Carrier" Microphone Systems ***Very Dangerous***
 30 kHz - 700 kHz  Spread Spectrum Current Carrier Devices

1700 MHz - 1900 MHz  25-250mw Video and audio bugs (Mostly Federal Video Bugs)
2400 MHz - 2484 MHz  25-250mw Video and audio bugs (2.450 to 2.483 very popular)

If the signal is "scrambled" it is nothing more than simple voice
inversion, a circuit to "de-scramble" can be built for around $15.

Note: AID devices are often re-tuned for out band channels... so be
careful.

The area of spectrum from 15 MHz to 500 MHz is the primary threat, 500 MHz
to 2.7 GHz is the secondary threat, a "line carrier" threat is from 30 kHz
to 750 kHz.

If the person planting the bug suspects that a TSCM inspection
may be conducted then AID suggests a frequency between 30 MHz to
50 MHz, sensitivity of receiver should be better than
.18uv/-122dbm. The mode/modulation is recommended by AID to be 
wideband FM.

Also, keep in mind that AID devices are frequently used for illegal
buggings, so be familiar with what their realistic specs are, expect
power outputs well under 50mw, and expect to see the AC power circuits
being used as the antenna.


			


				

---


			


			




			


				




			



Security Research Bugs - England
145 MHz - 175 MHz  FAST-II-L Computer Bug - 1, 3, 10, 30, 100mw
170 MHz - 204 MHz  FAST-II-H Computer Bug - 1, 3, 10, 30, 100mw

 60 kHz - 200 kHz  "Line Carrier" Microphone Systems ***Very Dangerous***

1.1 GHz - 1.4 GHz  250mw Lynx Video/Audio Bugs (L-Band)
2.5 GHz - 2.6 GHz  250mw Lynx Video/Audio Bugs
3.8 GHz - 4.2 GHz  250mw Lynx Video/Audio Bugs

Note1: LYNX video bugs and cameras are frequently built into old bricks,
wooden joists, logs, gate posts and such... VERY, VERY Dangerous and
easily concealed.

Note2: Most Security Research Bugs utilize fixed frequency inversion to
protect against detection, a commonly used frequency is a 1.862 kHz
inversion point.


			


				

---


			


			


HDS - Household Data Services
 50.000 - 750.000 kHz	Carrier Current Audio System
120.000 - 400.000 kHz	Carrier Current Audio System
138.000 - 174.000 MHz	Wireless microphone/Body Wires (8KR Series .1 to 30 mW)
150.000 - 174.000 MHz	Wireless microphone/Body Wires (ATX Series .1 to 30 mW)
174.000 - 230.000 MHz	Wireless microphone/Body Wires
350.000 - 440.000 MHz	Audio/Video Transmitters (360-440 popular)
470.000 - 608.000 MHz	Audio/Video Transmitters
570.000 - 928.000 MHz	Audio/Video Transmitters (Spread Spectrum Popular)
 1,000  -  1,500 MHz	Low Power Audio/Video Transmitter (10-100mw max.)
 1,425  -  1,450 MHz	Low Power Audio/Video Transmitter (10-100mw max.)
 1,700  -  2,700 MHz	Audio/Video Transmitters 2.4-2.5 hot (10-100mw max.)
 1,710  -  1,900 MHz	Audio/Video Transmitters (10-100mw max.) ** HOT **
 6,425  -  7,125 MHz	Low Power Audio/Video Transmitter (10-100mw max.)
 8,100  -  8,700 MHz	Audio/Video Transmitter, 8.2/8.5 popular (10-100mw max.)
10,200  - 10,700 MHz	Audio/Video Transmitter, 10.5 popular (10-100mw max.)
17,700  - 19,700 MHz	Low Power Audio/Video Transmitter (10-100mw max.)
20,000  - 24,600 MHz	Low Power Audio/Video Transmitter (10-100mw max.)


			


				

---


			


			


Sony - Wireless Microphones and Body Wires
470.000 - 489.000 MHz	2.5mw - 20mw, WFM (110 kHz), Ultra low power
770.000 - 782.000 MHz	2.5mw - 10mw, Ultra low power - TV Channel 64
782.000 - 794.000 MHz	2.5mw - 10mw, Ultra low power - TV Channel 66
794.000 - 806.000 MHz	2.5mw - 10mw, Ultra low power - TV Channel 68
770.000 - 810.000 MHz	2.5mw - 20mw, WFM (110 kHz), Ultra low power
902.000 - 928.000 MHz	2.5mw - 20mw, WFM (110 kHz), Ultra low power
947.000 - 954.000 MHz	2.5mw - 20mw, WFM (110 kHz), Ultra low power
 60.000 - 970.000 MHz	2.5mw - 10mw, WFM (300 kHz) Audio Transmitter


			


				

---


			


			


Lorraine Electronics Surveillance
365.000 - 455.000 MHz	Low Power NF Audio Transmitter (9 specific channels)


			


				

---


			


			


SKS - Skaggs Telecommunications Service
170.000 - 216.000 MHz	Low Power Audio Transmitter/Body Wire


			


				

---


			


			


Swintek
136.000 - 150.000 MHz	Wireless microphone/Body Wires (Special Order)
150.000 - 174.000 MHz	Wireless microphone/Body Wires (Standard)
170.000 - 220.000 MHz	Wireless microphone/Body Wires (Special Order)
200.000 - 470.000 MHz	Wireless microphone/Body Wires (Special Order)


			


				

---


			


			


Broadcast Microwave Services
  1.990 -  2.5000 GHz	S-band Video Transmitters (under 100mw)
  6.400 -  7.2000 GHz	Video Transmitters (under 5mw)
  6.785 -  7.1250 GHz	Video Transmitters (under 10mw)
  1.400 -  8.5000 GHz	Video Transmitters (under 10mw)
 12.700 - 13.2500 GHz	Video Transmitters (under 10mw)
  1.000 - 13.0000 GHz	Video Transmitters (under 5mw)


			


				

---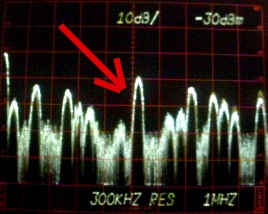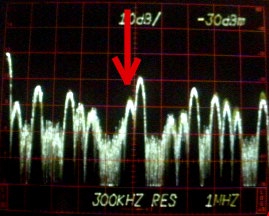 Xandi Electronics
      143.500 -		Low Power Kit Bug (130 - 160 w/mod) Part 15 device
 88.000 - 108.000 MHz	Low Power Kit Bug (70 - 120 w/mod) Part 15 device


			


				

---


			


			


DECO
      398.600 -		Low Power Kit Bugs - Part 15 device
      399.450 -		Low Power Kit Bugs - Part 15 device
      399.030 -		Low Power Kit Bugs - Part 15 device
      406.000 -		Low Power Kit Bugs - Part 15 device
365.000 - 420.000 MHz	Low Power Kit Bugs


			


				

---


			


			


Sheffield Electronics - No longer made
 70.000 - 119.000 MHz	Surveillance Transmitter Kits (under .1 - 10mw)
145.000 - 180.000 MHz	Surveillance Transmitter Kits (under .1 - 10mw)
160.000 - 240.000 MHz	Surveillance Transmitter Kits (under .1 - 10mw)
235.000 - 305.000 MHz	Surveillance Transmitter Kits (under .1 - 10mw)


			


				

---


			


			


Vega
150.000 - 216.000 MHz	Wireless microphone/Body Wires (Dynex, VX, T, etc...)
169.000 - 216.000 MHz	Wireless microphone/Body Wires (Dynex, VX, T, etc...)


			


				

---


			


			


HM Electronics
160.000 - 174.000 MHz	Wireless microphone/Body Wires (Sys 50/55, below 50mw)
174.000 - 216.000 MHz	Wireless microphone/Body Wires (Sys 50/55, below 50mw)


			


				

---


			


			


Sennheiser
165.000 - 216.000 MHz	Wireless microphone/Body Wires (SK Series)
770.000 - 810.000 MHz	Wireless microphone/Body Wires


			


				

---


			


			


Telex
 62.100 -  85.400 MHz	Soundmate Products (Commonly Modified)
135.000 - 150.000 MHz	Wireless microphone/Body Wires (WT Series) * HOT *
150.000 - 165.000 MHz	Wireless microphone/Body Wires (WT Series) * HOT *
165.000 - 185.000 MHz	Wireless microphone/Body Wires (WT Series) * HOT *
185.000 - 205.000 MHz	Wireless microphone/Body Wires (WT Series)
165.000 - 210.000 MHz	Wireless microphone/Body Wires (B/H/WT/G Series 30-50mw)
169.000 - 235.000 MHz	Wireless microphone/Body Wires (FMR/HT/WT Series 35-50mw)
205.000 - 220.000 MHz	Wireless microphone/Body Wires (WT Series)
450.000 - 470.000 MHz	Wireless microphone/Body Wires (WT-450, below 50mw)
524.000 - 608.000 MHz	Micropak Transmitter/Body Wires (35-50mw nominal)
518.000 - 760.000 MHz	Micropak Transmitter/Body Wires (566-675 MHz popular)
614.000 - 746.000 MHz	Micropak Transmitter/Body Wires (35-50mw nominal)
450.000 - 820.000 MHz	Micropak Transmitter/Body Wires (15-35mw nominal)


			


				

---


			


			


Sampson
135.000 - 220.000 MHz	Wireless microphone/Body Wires (Poor Quality Products)


			


				

---


			


			


Electrosonics, Inc.
150.000 - 216.000 MHz	Wireless microphone/Body Wires


			


				

---


			


			


RF Link Technology Inc.
	2.453 GHz		WaveCom Wireless Video System - Channel A
	2.473 GHz		WaveCom Wireless Video System - Channel B
	60-72 MHz		Video/RF Output from 2.4 GHz Module
	
	The WaveCom Video systems are commonly modified, repackaged, 
	and sold by "spy shops" and private investigators as an 
	eavesdropping device. The signature of such a device is 
	operation between 2.10 GHz and 2.85 GHz with a slightly 
	modified negative sync pulse on the video signal.


			


				

---


			


			


ITS Corporation
       54 - 88 MHz      Low Power Video Transmitter (5M75C3F/250KF3E)
      174 - 216 MHz     Low Power Video Transmitter (5M75C3F/250KF3E)
      470 - 860 MHz     Video System Transmitter    (5M75C3F/250F3)
    2.150 - 2.686 GHz   Transmitter/Amp for WaveCom Video (5M75C3F/250KF3E)
    2.150 - 2.700 GHz   Transmitter/Amp for WaveCom Video (6M00B9F)


			


				

---


			


			


Lectrosonics, Inc.
135.000 - 174.000 MHz	Wireless microphone/Body Wires (50mw max.)
174.000 - 216.000 MHz	Wireless microphone/Body Wires (50mw max.)
470.000 - 608.000 MHz	Wireless microphone/Body Wires (70mw max.)


			


				

---


			


			


Nady Systems
135.000 - 220.000 MHz	Wireless microphone/Body Wires (VR series)
170.000 - 218.000 MHz	Wireless microphone/Body Wires (VR series)
945.000 - 955.000 MHz	Wireless microphone/Body Wires (VR series)


			


				

---


			


			


Electro Voice
135.000 - 220.000 MHz	Wireless microphone/Body Wires (GS/MS Series)
169.000 - 216.000 MHz	Wireless microphone/Body Wires (MB Series)


			


				

---


			


			


Shure Brothers
135.000 - 173.000 MHz	Wireless microphone/Body Wires (171.845 popular)
160.000 - 216.000 MHz	Wireless microphone/Body Wires (171.845 popular)
173.000 - 216.000 MHz	Wireless microphone/Body Wires (below 25mw)
173.000 - 220.000 MHz	Wireless microphone/Body Wires (L2 Series below 50mw)


			


				

---


			


			


Microwave Radio Corporation
 1,700 -  2,700 MHz	Low Power (3w - 42 Channels) Audio/Video Transmitter
 6,425 -  7,125 MHz	Low Power (1.5w - 30 Channels) Audio/Video Transmitter
17,700 - 19,700 MHz	Video Transmitter - Broadcast Quality
21,200 - 23,600 MHz	Video Transmitter - Broadcast Quality


			


				

---


			


			


Phonak - Switzerland
130.000 - 240.000 MHz	MicroEar - In the ear FM-NB receiver system
138.000 - 190.000 MHz	MicroEar - In the ear FM-NB receiver system
190.000 - 220.000 MHz	MicroEar - In the ear FM-NB receiver system


			


				

---


			


			


Electra Enterprises
434.000 - 435.000 MHz	Video Transmitter (40-80mw nominal)
900.000 - 915.000 MHz	Video Transmitter (40-80mw nominal)
(Also, Television Channels 32,46,47,48,49 59, and 900 MHz)


			


				

---


			


			


DGR Engineering - France

 85 kHz -  11.000 MHz	Spread Spectrum Audio/ Low bandwidth Video
 
Cameras and Microphones are hidden inside functional electrical outlets. 
System supports up to 240 cameras or microphones on same circuit. 
Video and audio signals conducted over power lines. Commonly used for large
scale buggings, such as hotel rooms, dormitories, and large office
buildings. Such a system has been in operation at NATO Headquarters (NY)
for several years.


			


				

---


			


			


Recoton
912.000 - 915.000 MHz	Popular Audio/Video Transmitters (914 MHz popular)
915.000 - 920.000 MHz	Popular Audio/Video Transmitters (ultra low power)
902.000 - 928.000 MHz	Popular Audio/Video Transmitters (ultra low power)


			


				

---


			


			


X10/BSR
290.000 - 305.000 MHz	Transmits RF over AC power lines - Audio (301-303 hot)
301.000 - 315.500 MHz	Transmits RF over AC power lines - Audio (310/312 hot)
410.000 - 426.000 MHz	Transmits RF over AC power lines - Audio (418 hot)


			


				

---


			


			


Good Mind Industries - Taiwan
 46.000 -  72.500 MHz	Ultra Low Power Video/Audio Transmitter


			


				

---


			


			


Phonex
  2.000 -   7.500 MHz	Modified AC Mains Transmitter (-40 dBmv at 50 ohms)
  2.620 -   6.400 MHz	AC Mains Transmitter
  5.500 -   7.000 MHz	Wireless Phone Extender System (Sold at Radio Shack)


			


				

---


			


			


Radio Shack
 24.00 - 180.00 kHz	FM Wireless Intercom Systems (uses AC mains) - Older Units
120.00 - 200.00 kHz	FM Wireless Intercom Systems (uses AC mains) - Older Units
200.00 - 270.00 kHz	FM Wireless Intercom Systems (uses AC mains)
300.00 - 400.00 kHz	FM Wireless Intercom Systems (uses Phone wires, 355 popular)
 35.00 -  50.00 MHz	FM Microphones (49.830, 49.855, 49.890, 37.600 Popular)
 75.00 - 110.00 MHz	Tie-Tack Microphones (FM Broadcast Band)
 50.00 - 290.00 MHz	FM Microphones (CM-421, below 5-50mw)
160.00 - 230.00 MHz	FM Microphones (169-176 popular,  5-50mw max, 15mw typical)
  700-950nm		Infrared Audio Transmitter (150 kHz carrier typical)


			


				

---


			


			


Various
  1.500 -   9.000 MHz	Phone Extender Systems
 15.000 -  75.000 MHz	Micro-Wire Conducted RF Systems (under 10mw)


			


				

---


			


			


LOJACK Corporation
173.075 - LOJACK Auto tracking system beacon (200ms burst every second)
          (This is the tracking device remotely activated via FM Sub Carrier)


			


				

---


			


			


Police Speed Enforcement Radar
10.450 -  10.600 GHz X-Band
11.488 -  11.628 GHz RD Detector
22.976 -  23.256 GHz RD Detector-2nd Harmonic
24.050 -  24.250 GHz K-Band
33.400 -  36.000 GHz Ka-Band  
 700nm -  1100nm Laser Threat  


			


				

---


			


			


Electronic Article Surveillance and Anti-Shoplifting Systems
 8.10 MHz -  9.30 MHz Checkpoint (Hi-Q Tags) 8.2 MHz Common
57.75 kHz - 58.75 kHz Sensormatic (Magnetic) Books, CD's, and Tapes
 915 MHz and 1830 MHz Knogo (Microwave Resonant) Adhesive Labels


			


				

---


			


			


Metal Detectors
  5 kHz - 210 kHz	Walk Through and Handheld Units (i.e. Garrett)

		
---
WARNING:
The area between 600 MHz and 9 GHz is EXTREMELY DANGEROUS as the eavesdropping equipment in that range is inexpensive, very low power, and highly directional.
Additionally, most TSCM people tend not to check frequencies above 1 GHz or 3 GHz (because the equipment is an order of magnitude too expensive for them to buy).
---


Any comments or questions regarding this specific page?
Please feel free to sign our Guest Book

---
|
Home
|
What is TSCM
|
Types of Bugs
|
Warning Signs You're Bugged
|
|
How To Behave if Bugged
|
TSCM Threat Levels
|
How To Engage a TSCM Firm
|
|
Qualifications
|
TSCM Protocol
|
Bug Frequencies
|
Phone Taps and Bugging
|
|
Signal Analysis
|
TDR Analysis
|
TDR Tutorial
|
Wiretapping
|
Training
|
Tools
|
|
Equipment
|
OSC-5000
|
Kaiser
|
Riser Bond
|
Avcom
|
Search Rcvrs
|
|
Outside Links
|
Recommended TSCM Books
|
TSCM Reference Library
|
|
Recommended U.S. TSCM Firms
|
TSCM-L Mailing List
|
---

To be contacted for a confidential consultation
please E-mail: jmatk@tscm.com


or send a letter via US Mail to:
James M. Atkinson
Granite Island Group
127 Eastern Avenue #291
Gloucester, MA 01931-8008

or call:
Telephone: (978) 546-3803 / Fax: (978) 546-9467

URL: http://www.tscm.com/

Copyright ©2002, Granite Island Group