TDR Tutorial and Riser Bond TDR Product Review
Why do you need a Time Domain Reflectometer?
TDRs are used in all phases of a cabling system's life, from construction to maintenance to fault finding and restoration.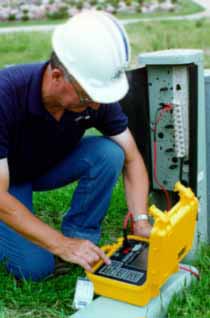 The TDR can be used to:
Locate anomalies caused by wiretaps or bugging devices
Locate bad splices
Locate unknown splices
Find in-line components
Locate water or moisture in the cable
Aid in measuring and verifying new or partial cable reels
Locate crushed, pinched or kinked cables
Locate opens and shorts in the cable
Locate bullet holes or damage in the cable
Measure dBRL (decibels of return loss) of the fault
Locate problems caused by construction companies
Use to document the integrity of your cabling
Use to document or map cable networks
Locate problems causing excessive loss of either AC or RF
Document cable installations prior to acceptance from the contractor
...and a variety of other cabling problems.

Operation and Usage Techniques

Principles of Operation

Usage Techniques

Waveform Analysis
---
Application Notes

General Applications

CATV - Cable Television Applications

Telephone Industry Applications

Broadcast Industry Applications

Cellular Applications

2-Way Radio Applications

Power Industry Applications

LAN/WAN - Local/Wide Area Networks Applications
---
Data Sheets

Datasheet - 1270 Dual Twisted Pair and Coax TDR

Datasheet - 1205T Dual Twisted Pair TDR

Datasheet - 1205C Coax TDR

Datasheet - 2901 Basic Numeric TDR
---
Instruction Manuals

Operators Manual - 1205T (pending)
---
Riser-Bond Instruments is a manufacturer of electronic cable test equipment, specializing in Metallic Time Domain Reflectometer (TDR), Cable Fault Locators. The company is located in Lincoln, Nebraska USA. Founded in 1981, the company does business internationally and is recognized as an industry leader.
Riser-Bond Instruments was founded on, and is committed to the principle that the customer should receive the best value for the money. The product should be of the highest quality possible, easy to operate, and supply the user with a high level of measurement capability.
Accuracy: They are the most accurate on the market, capable of pinpointing and identifying cable faults to within +/- .01% of reading.

Simplicity: They contain unique and exclusive features, providing both automatic and manual operation, without time-consuming menus. Simplified operation and superior test performance assure successful results by first level technicians as well as higher level engineers.

Durability: They are designed for many applications and will provide years of dependable service. Rugged and weather-resistant packaging assures ready-when-you-are operation under all kinds of environmental conditions.

Reliability: They are designed and manufactured in the U.S. under strict standards for both material and workmanship, resulting in high quality test instruments backed by the best warranty in the business.

Affordability: They are cost effective. From the digital handheld instruments to the high performance waveform models, Riser-Bond provides high quality instrumentation at reasonable prices.

Service: They have an excellent reputation in the marketplace. A fifteen month product warranty and a highly trained sales and service staff guarantee you of quality service and support. An exclusive time-to-repair guarantee helps keep downtime to a minimum.
Riser-Bond Instruments' TDRs are "Accurate to a fault" and "Engineered for the test of time"
---
|
TDR Principles of Operation
|
Usage Techniques
|
Waveform Analysis
|
|
General
|
CATV
|
Telephone
|
Broadcast
|
Cellular
|
2-Way Radio
|
Power
|
LAN/WAN
|
|
Dual Twisted Pair and Coax TDR
|
Dual Twisted Pair TDR
|
Coax TDR
|
Basic Numeric TDR
|
---


---
|
Home
|
What is TSCM
|
Types of Bugs
|
Warning Signs You're Bugged
|
|
How To Behave if Bugged
|
TSCM Threat Levels
|
How To Engage a TSCM Firm
|
|
Qualifications
|
TSCM Protocol
|
Bug Frequencies
|
Phone Taps and Bugging
|
|
Signal Analysis
|
TDR Analysis
|
TDR Tutorial
|
Wiretapping
|
Training
|
Tools
|
|
Equipment
|
OSC-5000
|
Kaiser
|
Riser Bond
|
Avcom
|
Search Rcvrs
|
|
Outside Links
|
Recommended TSCM Books
|
TSCM Reference Library
|
|
Recommended U.S. TSCM Firms
|
TSCM-L Mailing List
|
---

To be contacted for a confidential consultation
please E-mail: jmatk@tscm.com


or send a letter via US Mail to:
James M. Atkinson
Granite Island Group
127 Eastern Avenue #291
Gloucester, MA 01931-8008

or call:
Telephone: (978) 381-9111

URL: http://www.tscm.com/

Copyright ©2002, Granite Island Group