Basic Countermeasures Equipment
---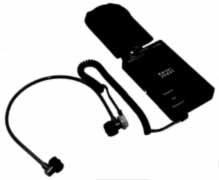 2046I - INDUCTIVE STETHOSCOPE
The 2046I detects the minute amount of radio frequency (RF) energy generated by transistors, integrated circuits, relays, etc., when they switch from on to off or vice versa. These switching transients are displayed by either a signal light or audible output in the headset.
The active probe is detachable from the amplifier assembly and can be attached on the end of a fiber glass pole via the 20-foot extension cable supplied.
The 2046I is powered by two standard 9 volt batteries and measures 1 x 3 x 11 inches with the probe installed. Supplied with detector, probe, probe extension cable, headset, instructions and carrying case.
---


---
|
Home
|
What is TSCM
|
Types of Bugs
|
Warning Signs You're Bugged
|
|
How To Behave if Bugged
|
TSCM Threat Levels
|
How To Engage a TSCM Firm
|
|
Qualifications
|
TSCM Protocol
|
Bug Frequencies
|
Phone Taps and Bugging
|
|
Signal Analysis
|
TDR Analysis
|
TDR Tutorial
|
Wiretapping
|
Training
|
Tools
|
|
Equipment
|
OSC-5000
|
Kaiser
|
Riser Bond
|
Avcom
|
Search Rcvrs
|
|
Outside Links
|
Recommended TSCM Books
|
TSCM Reference Library
|
|
Recommended U.S. TSCM Firms
|
TSCM-L Mailing List
|
---

To be contacted for a confidential consultation
please E-mail: jmatk@tscm.com


or send a letter via US Mail to:
James M. Atkinson
Granite Island Group
127 Eastern Avenue #291
Gloucester, MA 01931-8008

or call:
Telephone: (978) 381-9111

URL: http://www.tscm.com/

Copyright ©2002, Granite Island Group